HVAC Unit Cleaning
Back To Our Services
It's easy to forget about that large unit outside of your home, however it's important to remember to have a look every once in a while. Debris, dust, and other contaminants could be blocking the filters and find their way inside your home. And that's exactly where we come in.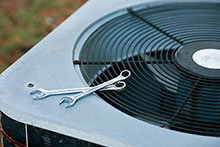 Avoid Problems In The Future
An improperly maintained HVAC unit is a headache waiting to happen. Parts wear down over time and could get clogged, meaning repairs become necessary. These repairs can become very expensive, so it's important to always allow professionals to carry out the required maintenance and cleaning to keep the system operating smoothly and prevent things from going wrong. You can avoid potential trouble and high expenses with your unit in the future by letting us service your system now. Rest easy with the peace of mind you'll have from knowing your unit is clean and properly maintained.
Get Your Air Quality Tested
An air ventilation system that isn't working properly can be both dangerous and extremely expensive in the long run if left unchecked. Our professionals will inspect the quality of the air in your unit and take care of any issues that may need to be resolved as a result of poor-quality air, saving you time, money, and your health. Don't delay and end up kicking yourself because of something that could have been easily prevented. Relax, and allow our trained professionals to take care of everything for you at a reasonable price.
Professional HVAC Troubleshooting
HVAC units are very complicated, specialized pieces of equipment. When something goes wrong, it can be difficult to determine the exact cause of the problem and even harder to decide on an effective repair. All of our technicians are trained professionals, meaning they're able to ascertain the cause of any problems and implement the right form of repair or maintenance to keep your unit working smoothly.
HVAC Services You Can Count On
Call our team at Air Duct Cleaning Orange for all of your HVAC unit cleaning needs. Speak to one of our experts, and book an appointment for our professionals to pay you a visit at a time that works best for you!